CERRO FITZ ROY
Parque Nacional Los Glaciares, Argentina
Laurel Stratton
January 2009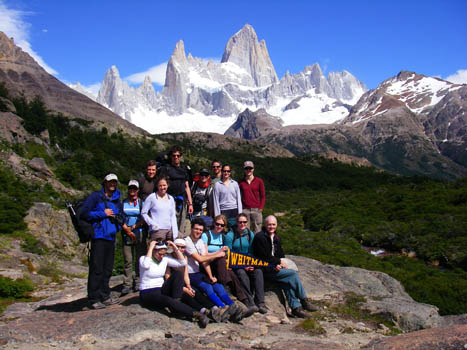 We blearily load our gear and file onto the bus in the early morning chill, wishing we could be less like turistas and more like locals—all of the stone homes in El Calafate are still quiet and sleepy at 6:00 am, ungodly early by Argentinean standards. But Parque Nacional Los Glaciares is waiting. No time for dawdling here.

Route 40 is long, bumpy, empty. I try to stay alert against creeping drowsiness, savoring the hushed atmosphere in the bus and the miles of open pasture punctuated occasionally by tall windbreaks that mark an isolated estancia. We are taking a back road, we are told, but even so I am amazed by the emptiness. The miles toward El Chalten slip past, and only the gradually steepening terrain, the gradual resolution of maybe-thunderheads into huge white mountains gives any sense of the distance we are traveling.

But as the terrain begins to sharpen, so do my nerves about the coming day. Our first real day of hiking on this trip was a brutal climb toward los Torres del Paine, an interminable ascent socked in with fog and jittered by getting-to-know-you nerves. It wiped me out. I couldn't keep up, and it has shaken me, badly. We are hiking into the park to spend three nights. What if I fall behind?


We creak and stretch, cinch our waist belts and adjust our boots. After the long drive to El Chalten, we're just supposed to…start walking? Yes, indeed. From here, the trail looks flat, and, Natalia's musical voice chiding "No, no no! Today is very easy! Today we go slow, we stop a lot" plays back in my mind. I can do this, I tell myself. This is why I came. But, unstated in the guide's solicitousness, I can only see her doubt in my ability to keep up.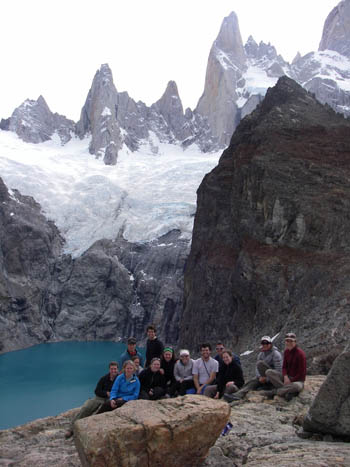 Dappled light dances through the open woodland, casting a golden glow utterly unlike the stark territory we have passed through. The forest is homogenous, solely composed of broad beech trees that shade soft green grasses and bright yellow ladies slippers that bob in the breeze. The trail is gentle. Around every corner, the mountains peak through the canopy, urging us onward. Step follows step, up and down, as we wind through the narrow trail, passing other groups of travelers with a cheerful "hola, gracias." Our group fragments and reforms, each of us changing position like geese in a migrating V. We tell stories. We laugh. We are happy to be out of the bus.
…
Our gentle ascent has brought us to a spongy plateau, from where we can see the Fitz Roy Massif above us, flanked with glaciers. A decision: continue upward to the high view point? It will be a steep ascent. Some of us are hesitant, dogged by blisters or blistered egos. But I feel wonderful; the easy hike has lifted my spirits and the cold air feels wonderful. My lungs are eager to burn. So upward we go!
Patient step follows patient step, breathing carefully measured against my growing confidence in my hiking fitness. We crest a ridge, and suddenly, dizzyingly filling every part of my vision, Cerro Fitz Roy juts toward the sky. It is utterly beyond a human scale, its granite glowing preternaturally in the afternoon light. A rugged glacier clings to its base. Twin topaz lakes reflect the sky above. I am speechless.
Geologists tend to flatter themselves that they understand a dimension of the world not grasped by their philistine counterparts who would refer to a moraine as 'that hill over there.' We think we understand time on a scale massively beyond our own, that words like Mesozoic and Quaternary actually mean something.


My knowledge of the time, the processes, and the constituents that went in to the formation of this landscape goes far toward increasing my appreciation. I don't mean to mean to minimize science or the pursuit of knowledge; far from it. But stand at the crest of a ridge, looking at the sawtooth peaks of the Fitz Roy Massif, and neatly descriptive phrases like "Miocene quartz monzonite pluton severely eroded by Pleistocene-to-modern glaciation" utterly lose their meaning.
There are moments when wonder goes beyond words, when all of the effort, the patience, and the ragged breathing combine to produce a moment of grace. Gazing at Cerro Fitz Roy, surrounded by friends, I am briefly overwhelmed: for just a flashing moment, I am acutely awed, acutely humbled by the wonders of the world and my place in it. My head is pounding. My lungs are ragged. My eyes can't quite choose a plane of focus.
I am alive. This is why I travel.
Read about Cerro Torre and Glaciar Grande, Aconcagua and Torres Del Paine

To Bob Carson's Homepage