Mt Kenya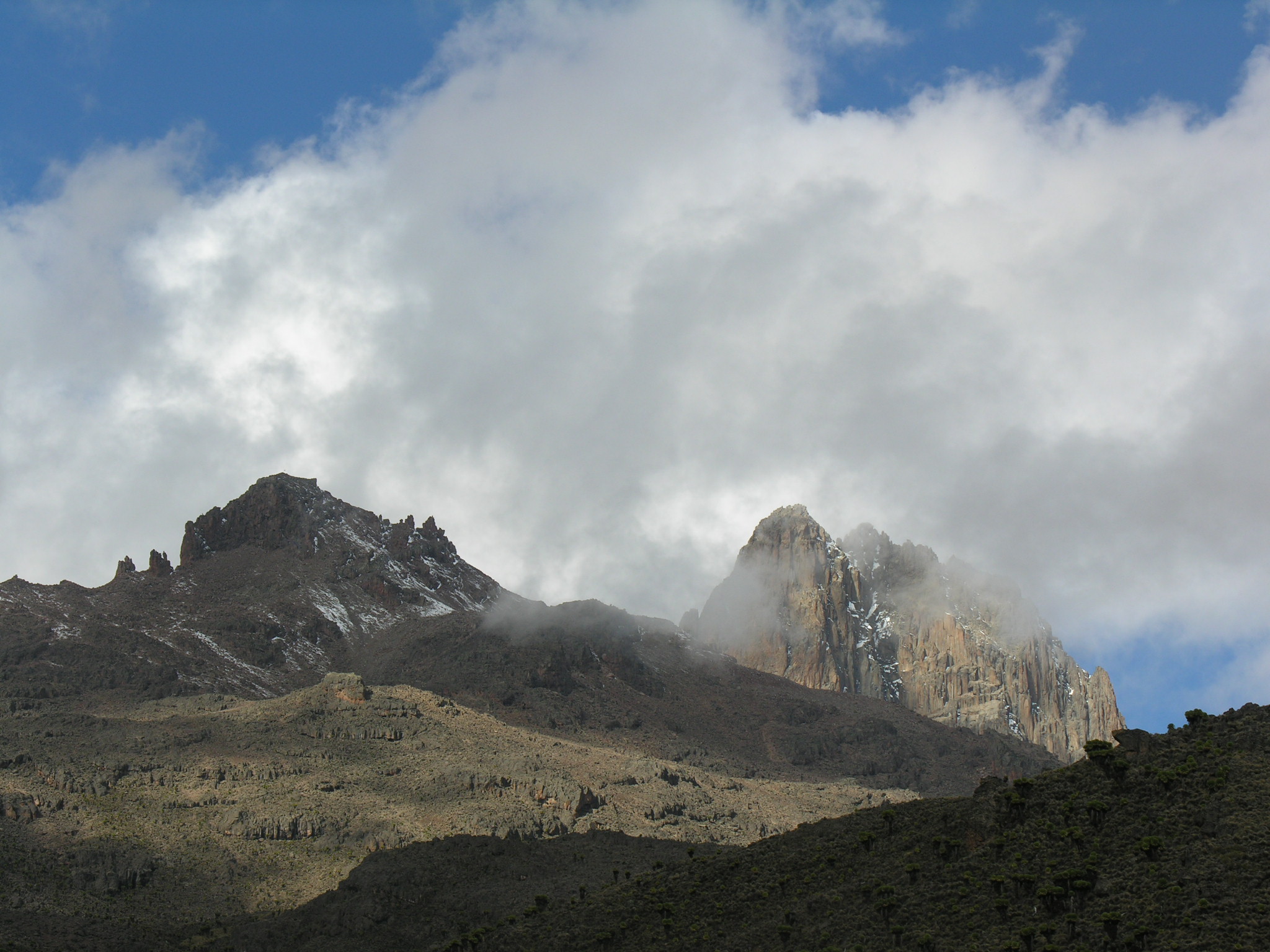 Mt Kenya from the east. The peaks from left to right are Point Lenana, Nelion, and Batian.
Summit Day: January 8th, 2010
Gretchen Swanson
"Goooood morning Whitman on Mt. Kenya!" bellows my tent mate, Andrew, at the top of his lungs as he steps out into the frigid mountain air at a shockingly early hour of the morning. It's 2:36 a.m. on January 8th, 2010 on Mt. Kenya just below Point Lenana. I poke my head out of my sleeping bag; I'm groggy and tired, but excited when I think about the day ahead. My nerves are oddly shaky envisioning the long climb to the summit, but I'm ready to challenge myself and get to the top.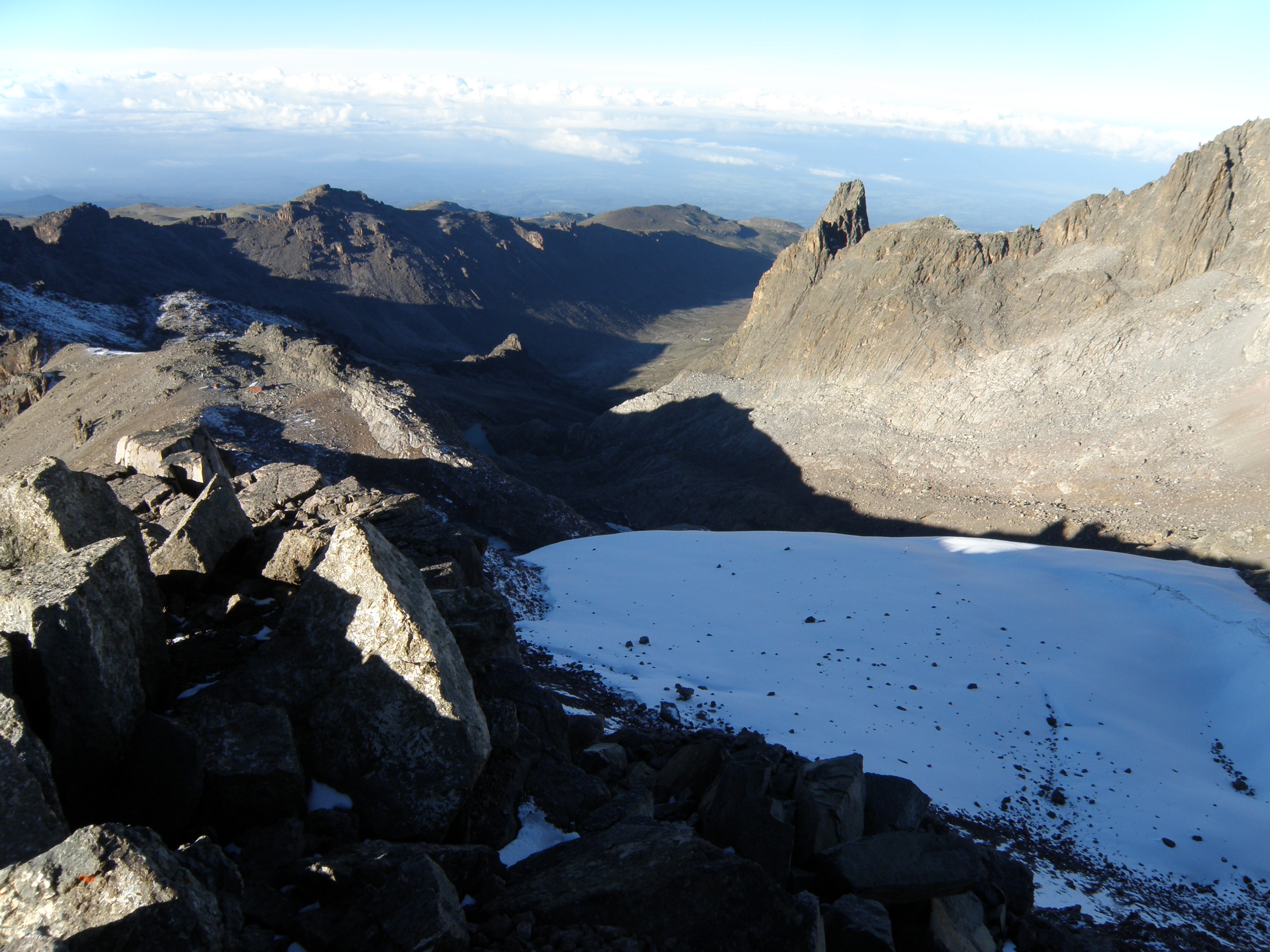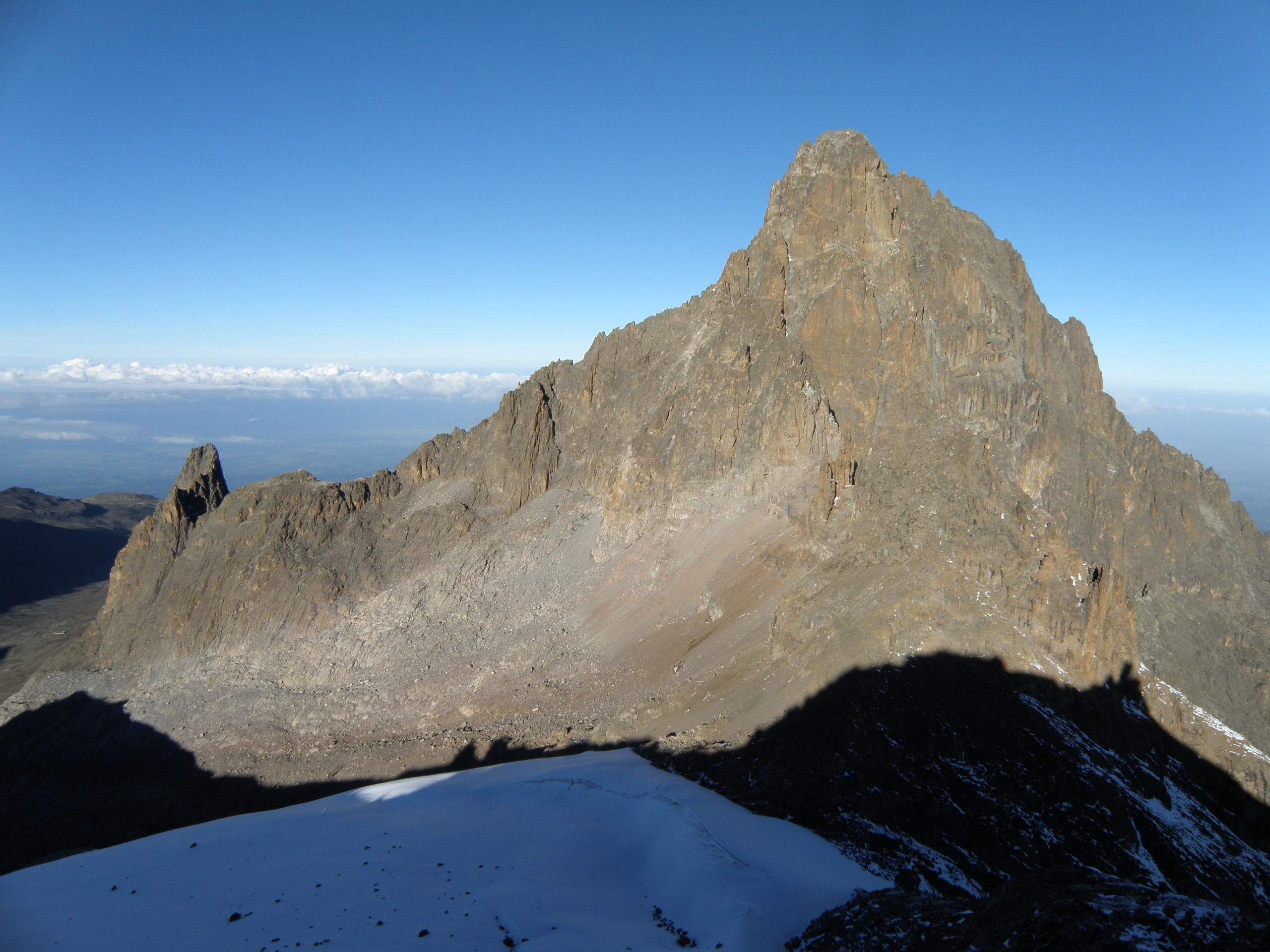 Left: Teleki valley glacier trough and Lewis Glacier from the northeast. Right: Lewis Glacier and Nelion and Batian.
On go the long underwear, fleece pants, wool socks, down jacket, fleece hat, headlamp and gloves; I shake the ice off my boots and scurry down to the tent where the porters have made a porridge breakfast for us all. I down three cups of Kenya tea to warm my body and drink my Starbucks coffee packet I've been saving for three weeks in anticipation of our summit day. Our group is buzzing with excitement; you can feel the infectious energy as you walk into the small food tent crammed with folding chairs, which we all huddle around by light of a kerosene lamp. Finally I hear one of the porters holler, "Its time to go!" Eager to be in the first group, I snatch my trekking poles and meet up with the other antsy students who also want to get moving. It's completely dark outside, but the moon lights up the mountainside so well, we hardly need our head lamps. We crunch over ice and slip over slick rocks as we descend to reach the actual trail, which we will take to make our hike less treacherous toward the top of Point Lenana.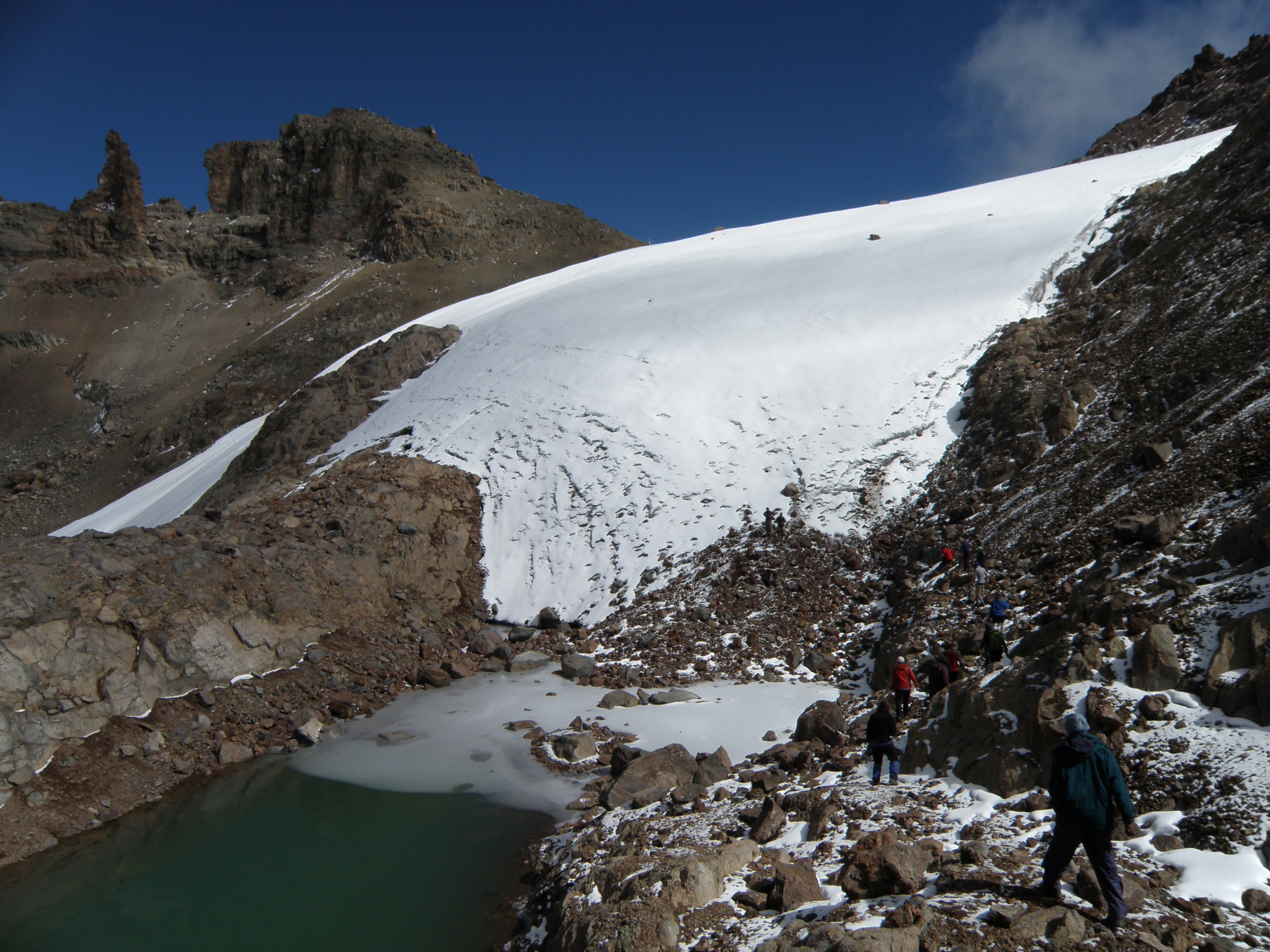 Lewis Glacier (largest on Mt. Kenya) and Point Lenana from the southwest.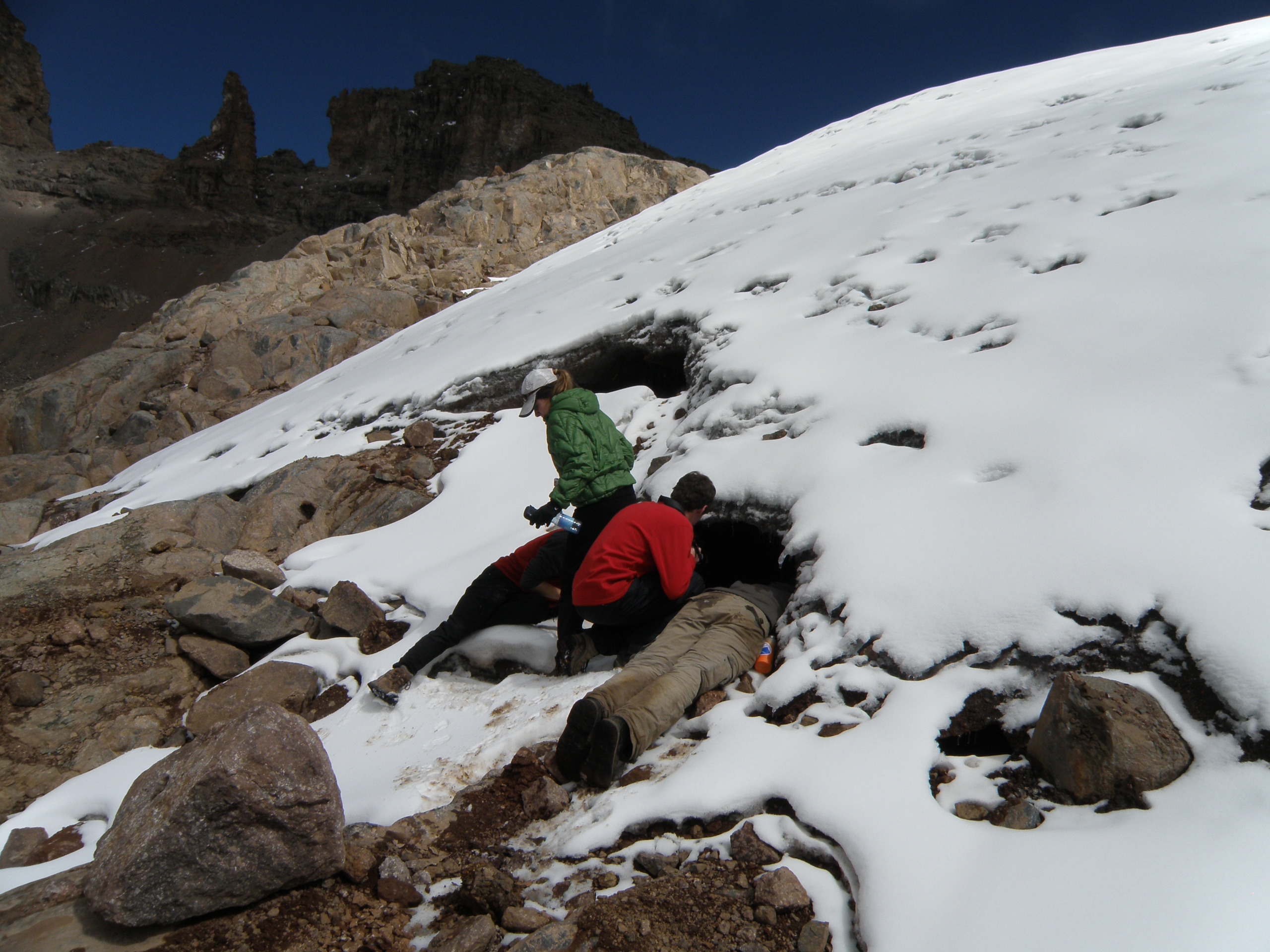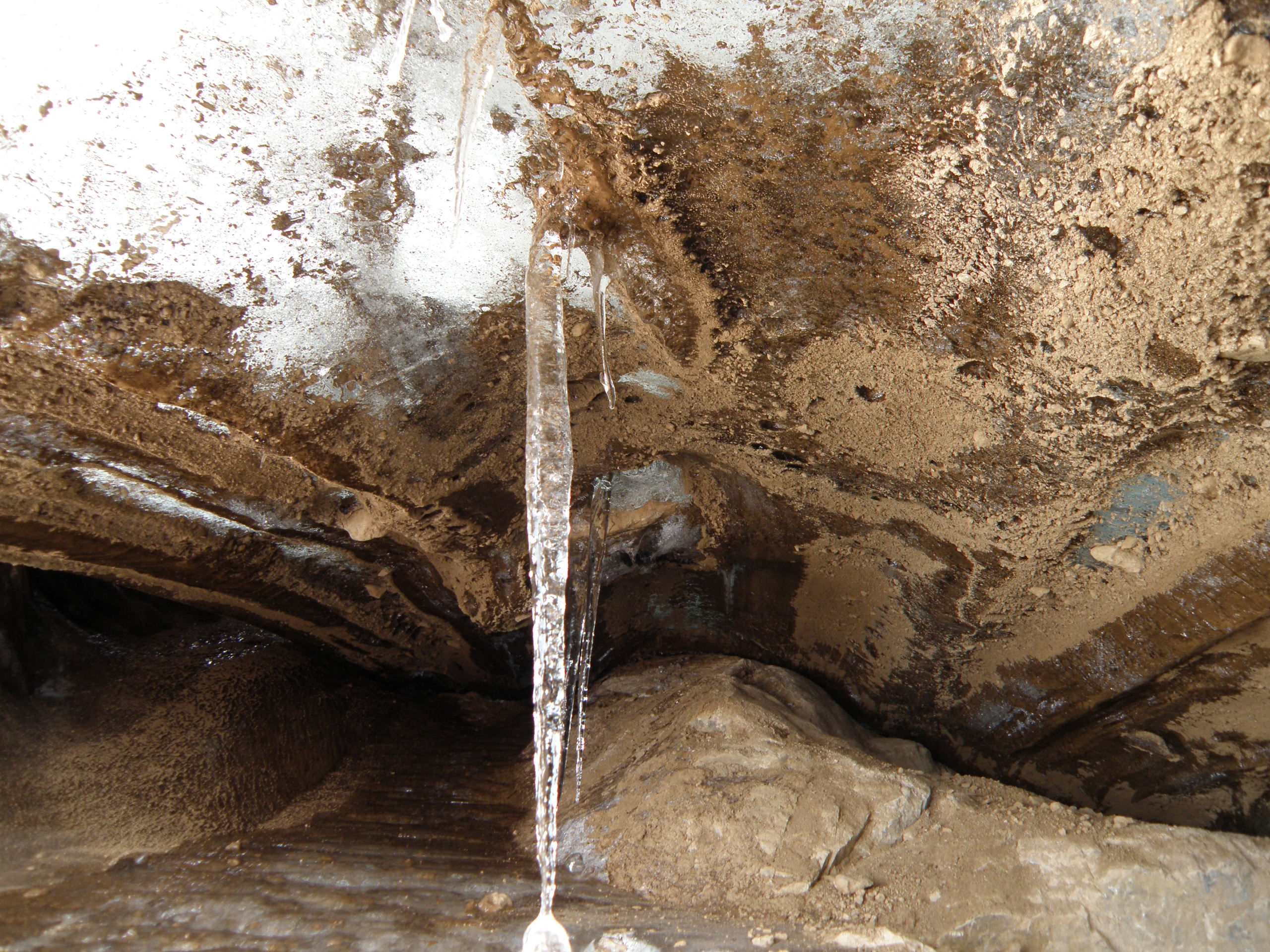 Left: The snout of the rapidly-retreating Lewis Glacier. Right: The bottom of the Lewis Glacier is grooved as the ice slides over the bedrock.
We've already been walking for an hour but it feels like minutes since we left our camp. I keep my head down and follow the footsteps in front of me breathing hard with each step. I'm not sure where we are going, all I know is that we are scaling a nearly vertical path, and if I slip, there is a sure chance I'll fall all they way to the bottom. Finally, after at least an hour of vertical hiking, I take in the view for the first time and see the sun is just beginning to brighten the eastern sky creating a misty blue silhouette of light against the puffy clouds on the horizon. I'm physically tired but energized by the support our group offers each other, "Slowly slowly, 'pole pole,' you can do it." We are nearly to the top after around four hours of trekking; it looks as though if we keep our pace we will be on top of Point Lenana for sunrise.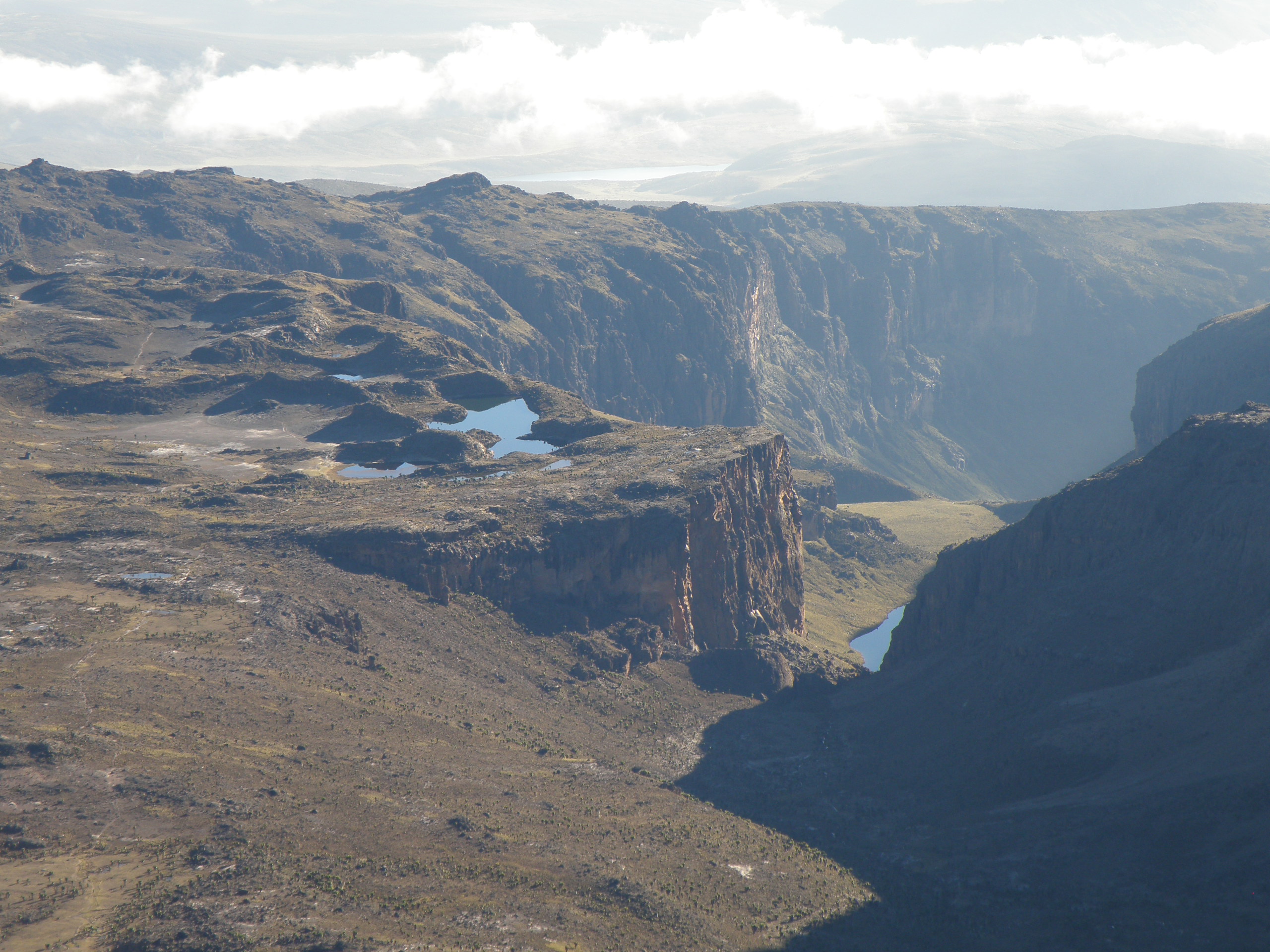 View east to Hall Tarns (left), and Lake Michaelson (right) in Gorges Valley glacial trough.
Two of us summit together after scrambling up the sheer rock ledge to the very top. The sun is just beginning to fully peek out from behind a barrier of fluffy clouds, and I feel warmth on my face for the first time this morning. I happily put on my sunglasses, and we take celebratory pictures at the top by the Kenyan flag. One by one the rest of the group trickles to the top, and we all hoot and holler each time a new person appears as they climb up the rock wall. Bob and Clare make it to the top and we create a victory tunnel for them to run through. We take group pictures, hug everyone, congratulate and thank our guides, and amaze ourselves with the natural beauty that surrounds us atop this 16,355-foot peak. There are few times I have felt so alive in my life. I observe all in our group with smiles on their faces, the bright sunshine adding to our exhilaration. I snap millions of pictures hoping to remember every detail of this Kenyan mountain morning, and promise to myself I will return to Kenya someday to climb its snow-covered peaks again.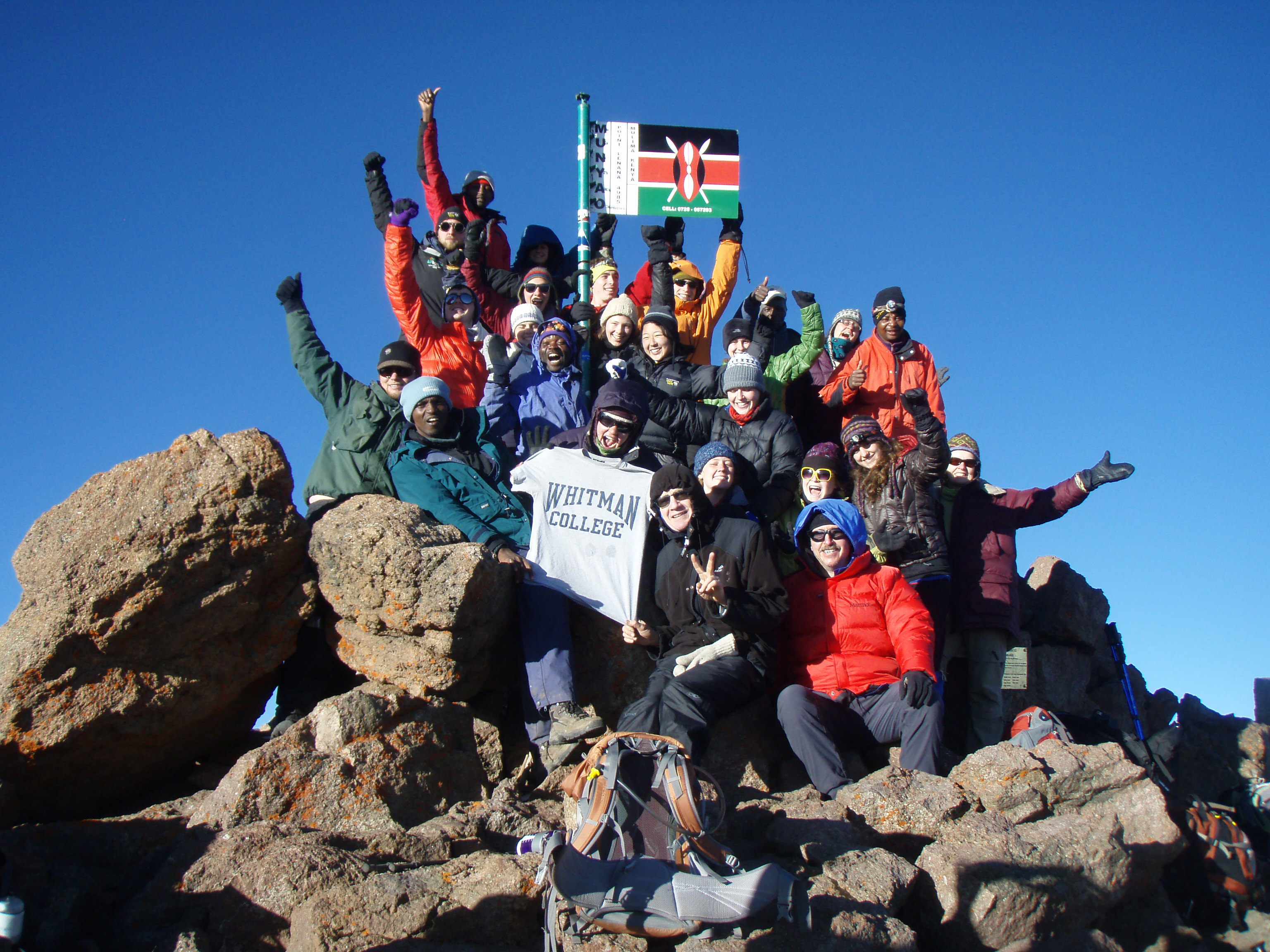 Whitties and Kenya flag on the summit of Point Lenana (16,355 feet).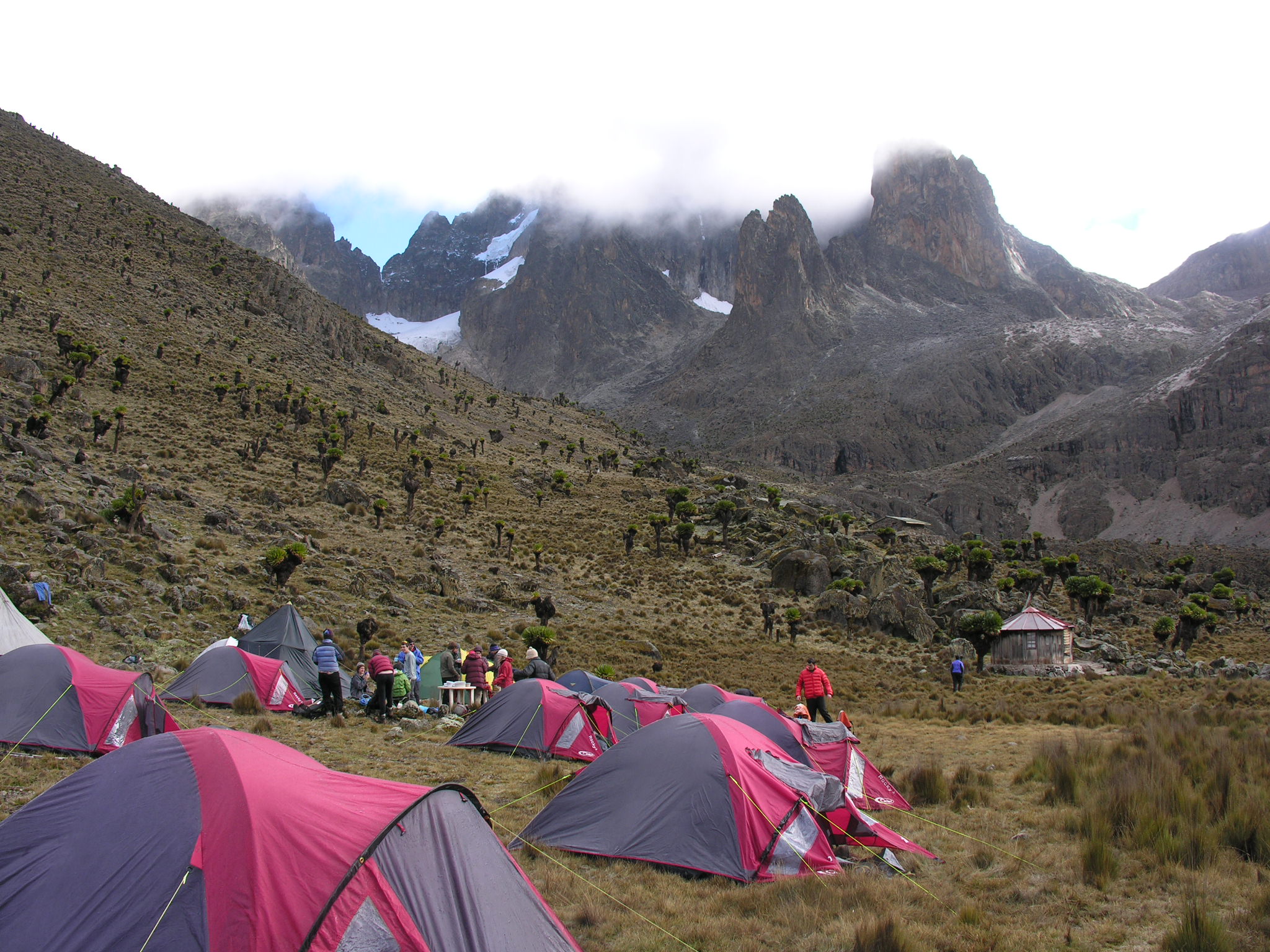 Mt. Kenya from the Teleki Valley glacial trough.

To Bob Carson's Hompage