Operations Research (Math/CS 339)
Spring 2020
Textbook Links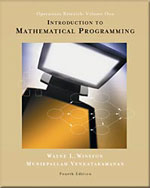 The textbook is ``Introduction to Mathematical Programming: Applications and Algorithms, Volume 1" by Wayne Winston and Munirpallam Venkataramanan.
The book is no longer being published, but there are plenty of sources for the text online. See me if you have problems obtaining the text. The ISBN is 0534359647.

Alternate Text: The first 10 chapters of this text are identical to the first 10 chapters of ``Operations Research: Applications and Algorithms'', which is a larger book and may be a better value. We will cover material from Chapters 2, 3, 4, 6, and 7-9 (time permitting). Either text will work fine.

Also, you do NOT need the CD or the ``Info-Trac code'', so the used versions will be fine!


---
First day stuff
---
Material By Chapter
Chapter 3
Chapter 4
HOMEWORK NOTE for sections 4.6-4.11. It wasn't clear what was assigned and what to turn in- Here is an update (turn in problems with an asterisk).

4.6: 2, 3, 4*
4.7: 2*, 8, 9, Ch 4 Review: #27
4.8: 1, 3, 6*, Ch 4 Review: #18
4.11: 2, 3*

Section 4.16:
---
Exam Links
Software Links
---
For the Curious...
---
Some Video Files
Solving an LP using LibreCalc (or Excel)

Install LINDO and solve a small linear program:

Solving an LP using LINGO:

Maple and/or Mathematica Notes