Operations Research (Math 339)
Fall 2017
Textbook Links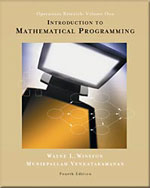 The textbook is ``Introduction to Mathematical Programming: Applications and Algorithms, Volume 1" by Wayne Winston and Munirpallam Venkataramanan.
The book is no longer being published, but there are plenty of sources for the text online. See me if you have problems obtaining the text. The ISBN is 0534359647.

Alternate Text: The first 10 chapters of this text are identical to the first 10 chapters of ``Operations Research: Applications and Algorithms'', which is a larger book and may be a better value. We will cover material from Chapters 2, 3, 4, 6, and 7-9 (time permitting). Either text will work fine.
---
First day stuff
---
Material By Chapter
Chapter 3
Chapter 4
Files used in Big-M:
Files used in Goal Programming (4.16)
Chapter 6 (We're skipping Ch 5)
Chapter 7 (Transportation Problems)
Homework for Chapter 8
For HW Set 10, turn in problems 7.5.4 (it hadn't been collected yet), then 7.6.3, 7.6.4, 8.1.2 and 8.2.7. Due on Friday, Dec 1.
For 8.1, there is no HW section.
For 8.2, do 2-8 (again, turn in 2 and 7 in HW Set 10).
For 8.3, do 1, 3, 5*, 9*.
For selected topics from Chapter 12: 12.6: 1, 6, 7. 12.7: 2. (discussed on Monday, 12/4)
Notes about Chapter 16, Neural Networks
Homework for Chapter 16: Find a "reasonably sized" neural network to fit the data from Exercises 2 and 5, then do #7.
---
Material for Exams
Exam 1
Exam 2
Final Exam
We will only have an in-class portion of the exam, since we ran out of time to look at Chapters 12 and 16 more in depth. For your convenience, I've collated the questions from the reviews and they are all given below. You'll notice that there are a lot of questions, but there is also a lot of repetition, so you might skip a few of them. I've written the final exam to be about an exam and a half. If you have any questions, I'll be around on Tuesday and Wednesday afternoons until at least 3PM.
---
Maple/LINDO/LINGO/Data files
---
For the Curious...
---
Some Video Files (these are on YouTube)
Using Matlab to build a simple neural network

Solving an LP using LINGO:

Solving an LP using LibreCalc (or Excel)