EPPAWALA: DESTRUCTION OF CULTURAL HERITAGE
IN THE NAME OF DEVELOPMENT
by D.L.O Mendis
1999
ISBN: 955-647-001-8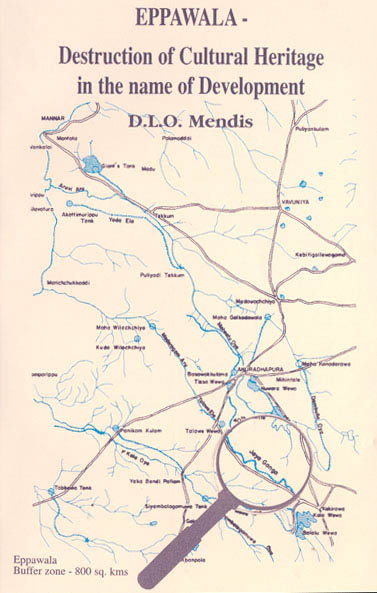 Click here for Table of Contents.

Click here for List of Figures, Illustrations and Tables.

Click here for Reviews of the book.

This book, composed by a professional Sri Lankan engineer with long experience in the Eppawala region, is the first comprehensive treatment of the history, geology, economy and society of the ancient Kalawewa-Jayaganga Water and Soil Conservation Ecosystem, of which Eppawala is a central part. The author, who in the 1970's helped to design the existing local phosphate extraction scheme – which is both labor-intensive and environment-friendly – is an acknowledged expert on the form and function of the Kalawewa-Jayaganga Ecosystem, a candidate for UNESCO's World Heritage List as the oldest continuously occupied planned conservation ecosystem in the world today. The book is richly embellished with photographs, tables and figures, and provides an essential resource for serious study of Eppawala, its past and its future.

Eppawala: Destruction of Cultural Heritage in the Name of Development, can be ordered by contacting the author, D.L.O. Mendis, at: Sri Lanka Pugwash Group, 16/1 George E. de Silva Mawatha, Kandy, Sri Lanka, Tel/Fax ++94 8 223597; or Sri Lanka Pugwash Group, 16 Amerasekera Mawatha #2/9, Colombo 5, Sri Lanka, Tel/Fax ++94 1 593210; or by email: mailto:pugwash@sltnet.lk

The price is U.S. $20.00 including shipping.

---
Please continue to find out more about the Eppawala Phosphate Project.