Students fulfilling their Senior Research requirement under Professor Yancey's supervision work in the broad area of Physiology:
-->NON-WHITMAN RESEARCH: Some students work off-campus over the summer or while studying abroad, in physiology and medical laboratories and marine stations around the world. They then work with Prof. Yancey on data analysis and thesis writing.
-->WHITMAN RESEARCH: Some students work with Professor Yancey in his laboratory in the summer and/or academic year. Projects are usually in his research area of environmental stresses and adaptations, mainly in osmoregulation. Most of the research in Prof. Yancey's laboratory focuses on organic osmolytes, small molecules that build up osmotic pressure inside cells to prevent osmotic water loss, while at the same time not disturbing cell functions.
Many osmolytes have other functions such as stabilizing proteins and membranes, both in nature and in biotechnology and medicine. For example, Dr. Yancey and his students and colleagues have found that some osmolytes protect our kidneys from toxic wastes and others help animals in the deep sea resist pressure inhibition of proteins. He has also assisted medical researchers in using osmolytes to treat diseases such as cystic fibrosis.
See Prof. Yancey's Home Page for details.

RECENT EXAMPLES OF STUDENT THESES, COPYRIGHT PROTECTED:
Laxson*, C., N. E. Condon, J. C. Drazen, and P.H. Yancey (2011). Decreasing urea:methylamine ratios with depth in Chondrichthyes: A physiological depth limit? Physio. Biochem. Zool.84:494-505 online pre-publication
Moran*, Hiram. 2012. Analysis of Mercury in Deep-sea Grenadier
Gerringer*, M.E., Drazen, J.C., Summers, A.P., Linley, T.D., Jamieson, A.J., Yancey, P.H. (2017). Distribution, composition, and functions of gelatinous tissues in deep-sea fishes. Royal Soc. Open Sci. 4: 171063
Downing*, A.B., G.T. Wallace*, Paul H. Yancey (2018). Organic osmolytes of amphipods from littoral to hadal zones: Increases with depth in trimethylamine N-oxide, scyllo-inositol and other potential pressure counteractants. Deep-Sea Res. I, In Press, available online

Many students have participated in deep-sea and other marine research on the Wecoma, Thompson, and Atlantis with the Alvin submersible, and lab/field research at Oregon State University, Mt. Desert Island Biological Lab (Maine), Stanford's Hopkins Marine Station and Monterey Bay Aquarium Res. Inst. (Monterey/Moss Landing CA), Univ. Hawai'i Manoa, Hawai'i Inst. Marine Biology, Yucatan Mexico reefs, Univ. St. Andrews



Examples of Marine Projects:

Adaptations to the high pressure of the deep benthos (1800-6400 m deep) (with J. Siebenaller, LSU, George Somero, Hopkins Marine Stn., and Jeff Drazen, Univ. Hawai'i); and PROJECT HADES (deep trench 6000-11,000m ecophysiology) with Dr. Drazen, Tim Shank (WHOI) and international collaborators.

Unusual osmolytes in deep-sea abyssal, hydrothermal-vent, and methane-seep animals (with Ray Lee, WSU; Lisa Levin, Scripps)


Coral

osmolytes and coral larvae cryopreservation (in Mary Hagedorn's lab, Hawai'i Inst. Marine Biology)

Coral

adaptations to low-salinity acidic waters of Yucatan (with Elizabeth Derse and Adina Payton, UCSC; and Mario Rebolledo-Vieyra and Laura Hernandez, Centro de Investigacion Cientifica de Yucatan)
Osmolytes in

salmon and endangered eels

(with Gordon Cramb, U. St. Andrews, Scotland)--effects of pollutants

Coconut I. (Hawai'i Inst. Mar. Bio.)
2012 below: Alfredo Villasenor in Scotland to work on eel osmolytes and
Kelly Peterson (rightmost person in photo) inspecting coral tanks on Coconut I.

.

Matt Gillett in 1996 helps collect deep-sea fish aboard the Wecoma
.
Wendy Blake and James Conley, at the Hopkins Marine Station (8/99 and 8/00), where we have conducted high-pressure work

Amber Fyfe-Johnson
pressurizes an enzyme
from a deep-sea fish (8/98)

Liza Mathias and Jeanette Fiess
Tilapia research in Hawai'i 2004

Ray Andrell and Steven Ly

seal a high-pressure chamber for fish in J. Drazen's lab at U. Hawai'i (5/06)


Carrie Laxson and Kristianne Chavez
Coral preservation research in Hawai'i 2009

.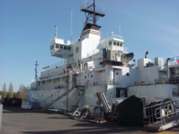 .

.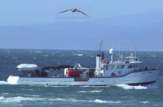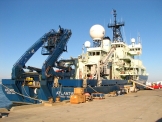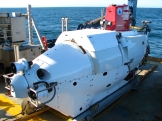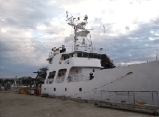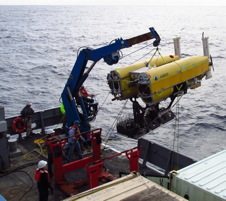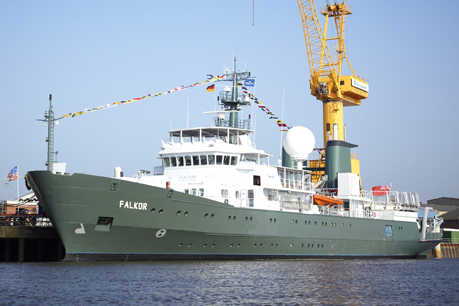 The R/Vs Wecoma (Oregon State Univ. 1980s-1990s research on deep-sea animals); Thomas G. Thompson (Univ. Washington; 2001, 2014 research); the robotic submersible ROV Oceanic Explorer for our 2001 work;
the Point Lobos with ROV Ventana at MBARI, for 2003 deep-sea work; the Atlantis (WHOI) with the DSRV ALVIN for 2006-08 research on cold seeps and hydrothermal vents (with Ray Lee, WSU; Lisa Levin, Scripps); the R/V Point Sur; hROV Nereus, and R/V Falkor for 2009-2015 work on deep-sea fish metabolism / pressure adaptations (with Jeff Drazen, U. Hawai'i)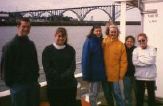 .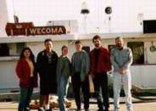 .

.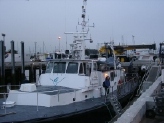 .

.

.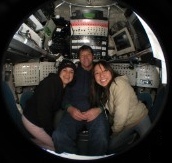 .

.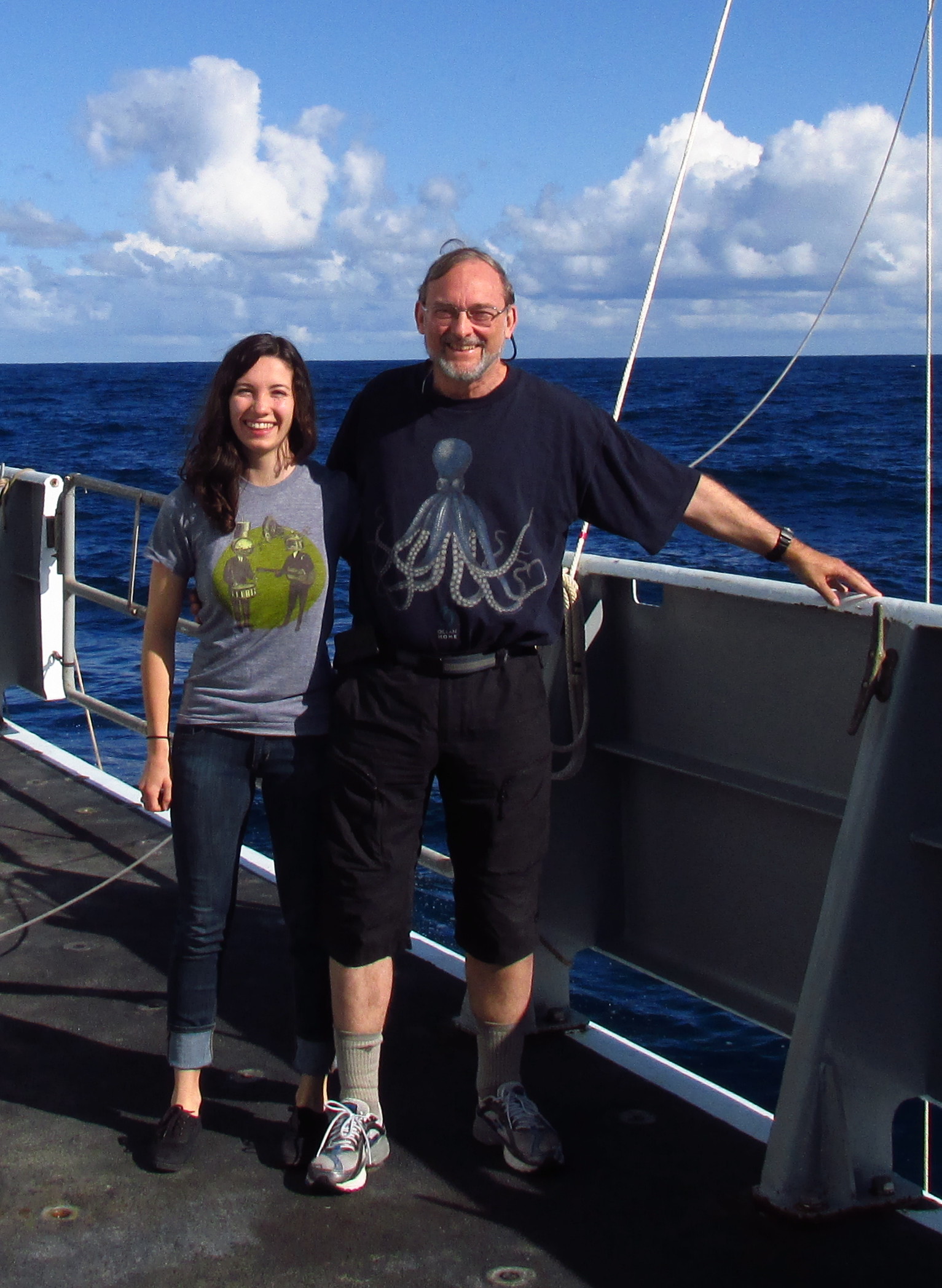 Our deep-sea expedition teams from 1996, 1997 on the Wecoma; 2001 on the Thompson; 2003 at MBARI in California; 2006 R. Andrell with Alvin on the Atlantis; 2008 J. Ishikawa in Alvin; 2009 C. Laxson on the Point Sur; 2014 Gemma Wallace on the Thompson

Go to Top of Page
Some students have worked on the mechanisms that allow kidney/brain cells to tolerate high levels of urea and/or salt. This involves organic osmolytes such as betaine, sorbitol, glycerophosphorylcholine, and inositol.

PROJECTS INCLUDE:

Osmolytes as cellular protectants in mammalian development
Mammalian kidney and brain cell osmoregulation, including the effects of i) dietary salt and protein, ii) creatine loading by atheletes, iii) drugs to treat diabetes, iv) analgesic drugs such as ibuprofen.
BETAPOWER betaine-based sports drink: effects on neurons


-

Normal kidney cells growing in culture; cells exposed to 1mM

ibuprofen

(pictures from Karen Pantilat's 1996 research project on analgesics)
Go to Top of Page
..




ABOVE: Anna Downing '16 presents our work at the International Deep-Sea Biology Symposium,

Aveiro

, PORTUGAL -- Sept. 2016 (city in picture is Porto, where the banquet was held)
ABOVE: Carrie Laxson '10 and Kristianne Chavez '10 present their deep-sea fish / coral research at the International Deep-Sea Biology Symposium, Reykjavik,

ICELAND

, Jun. 2010


Laxson*, C., N. E. Condon, J. C. Drazen, and P.H. Yancey (2011). Decreasing urea:methylamine ratios with depth in Chondrichthyes: A physiological depth limit? Physio. Biochem. Zool.84:494-505; see REFS below

.

ABOVE: Mackenzie Gerringer in

Wellington NZ

, Dec. 2012. She presented our results (talk) at the 13th Deep-Sea Biology Symposium (where we also heard and talked to James Cameron about his record submarine dive).

ABOVE LEFT: Garth Brand and Athena Samerotte present their deep-sea fish research at the 13th Annual Murdock Undergraduate Science conference, Portland, 2004
Brand, G.L., R.V. Horak, N. LeBris, S.K. Goffredi, S.L. Carney, B. Govenar, P.H. Yancey (2007). Hypotaurine and thiotaurine as indicators of sulfide exposure in bivalves and vestimentiferans from hydrothermal vents and cold seeps. Mar. Ecol. 28: 208-18.
Samerotte, A.L., J.C. Drazen, G.L. Brand, B.A. Seibel, P.H. Yancey (2007). Contents of trimethylamine oxide correlate with depth within as well as among species of teleost fish: an analysis of causation. Phys. Zool. Biochem. 80: 197-208

MIDDLE ABOVE: Maria Aunon and Vanessa Walker present their work to government officials (NSF, Congress) at the 4th Annual Posters-on-the-Hill Conference, Washington DC, Apr. 2000
Yancey, P.H., A.L. Fyfe-Johnson, R.H. Kelly, V.P. Walker, M.T. Aunon (2001). Trimethylamine oxide counteracts effects of hydrostatic pressure on proteins of deep-sea teleosts. J. Exp. Zool. 289:172

FAR RIGHT ABOVE: Jeanette Fiess, Jennifer Hom and Hilary Hudson present their work at the 2nd International Hydrothermal Vent Symposium, Brest, FRANCE, Oct. 2001
Fiess. J.C., J.R. Hom, H.A. Hudson, C. Kato, P.H. Yancey (2002). Phosphodiester amine, taurine and derivatives, and other osmolytes in vesicomyid bivalves: correlations with depth and symbiont metabolism. Cahiers Biol. Mar. 43: 337-340

LEFT: Matt Gillett presents his poster at the Society for Integrative and Comparative Biology, 1996 in Albuquerque; and studies high-pressure effects on a deep-sea fish enzyme at the Hopkins Marine Station
Gillett, M.B., J.R. Suko, F.O. Santoso, P.H. Yancey (1996). Elevated levels of trimethylamine oxide in muscles of deep-sea teleosts. Amer. Zool. 36: 35A (published as full paper in 1997; see REFS below

NEAR RIGHT: Noah Rosenberg presents a poster on our deep-sea research in Mt. Buller, AUSTRALIA, at the 6th Internat'l. Congress on Comparative Physiology and Biochemistry, Feb. 2003.
Rosenberg, N.B,, R.W. Lee, P.H. Yancey (2003). Adaptation to environmental stresses with osmolytes: possible roles for betaine, hypotaurine and thiotaurine in gastropods from hydrothermal vents. Comp. Biochem. Physiol. 134: S120 (Published as full paper in 2006; see REFS below)

FAR RIGHT-->Jenni Rohr presents her poster on diabetes-related work at the 33rd Internat'l Congress of Physiol. Sciences, St. Petersburg, RUSSIA
Rohr, J.M. and P.H. Yancey (1997). Effects of aldose reductase inhibitors, ascorbic acid and aminoguanidine on sorbitol contents in primary renal cultures. (Published as full paper in 1999; see REFS below
Go to Top of Page

PUBLICATIONS with undergraduate co-authors* and former students**:

MARINE Research:
Yancey, P.H., W. Bement*, M. Maier* (1985). Temperature, pH and pressure effects on lactate dehydrogenases of vertically migrating midwater fishes. Amer. Zool

. 25: 19A (poster abstract)

Yancey, P.H., R. Lawrence-Berrey*, M. D. Douglas* (1989). Adaptations in mesopelagic fishes. I. Buoyant glycosaminoglycan layers in species without diel vertical migrations. Mar. Biol

. 103: 453-459

Yancey, P.H., J. Ruble*, J.D. Valentich (1991). Effect of chloride secretagogues on cyclic AMP formation in cultured shark (Squalus acanthias

) rectal gland epithelial cells.

Bull. Mt. Des. I. Biol. Lab

.13: 51-52

Yancey, P.H., T. Kulongoski*, M.D. Usibelli*, R. Lawrence-Berrey*, A. Pedersen* (1992). Adaptations in mesopelagic fishes. II. Protein contents of various muscles and actomyosin contents and structure of swimming muscle. Comp. Biochem. Physiol.

103B: 691-697

Gillett*, M.B., J.R. Suko*, F.O. Santoso*, P.H. Yancey (1997). Elevated levels of trimethylamine oxide in muscles of deep-sea gadiform teleosts: a high-pressure adaptation? J. Exper. Zool.

279:386-391

Kelly*, R.H., P.H. Yancey (1999). High levels of trimethylamine oxide correlating with depth in deep-sea teleost fishes, skates, and decapod crustaceans. Biol. Bull.

196:18-25

; PDF version here
Yancey, P.H., R.H. Kelly*, A.L. Fyfe-Johnson*, M.T. Aunon*, V.P. Walker*, J. F. Siebenaller (2000). Effects of osmolytes of deep-sea animals on enzyme function and stability under high hydrostatic pressure. In: Science and Technology of High Pressure: Proceedings of AIRAPT-17

; Manghnani, M.H., W.J. Nellis, M.T. Nicol (eds). Universities Press, Hyderabad, India

Yin, M., H.R. Palmer, A.L. Fyfe-Johnson*, J.J. Bedford, R.A. Smith, P.H. Yancey (2000). Hypotaurine, N-methyltaurine, taurine, and glycine betaine as dominant osmolytes of vestimentiferan tubeworms from hydrothermal vents and cold seeps. Physiol. Biochem. Zool.

73:629.

Yancey, P.H., A.L. Fyfe-Johnson*, R.H. Kelly*, V.P. Walker*, M.T. Aunon* (2001). Trimethylamine oxide counteracts effects of hydrostatic pressure on proteins of deep-sea teleosts. J. Exp. Zool.

289:172

Yancey, P.H., W. R. Blake*, J. Conley* (2002). Unusual organic osmolytes in deep-sea animals: adaptations to hydrostatic pressure and other perturbants. Comp. Biochem. Physiol. A

, 133 (3): 667-676

(click on vol. 133)
Yancey, P.H., W. R. Blake*, J. Conley*, R.H. Kelly (2002). Nitrogenous solutes as protein-stabilizing osmolytes: counteracting the destabilizing effects of hydrostatic pressure in deep-sea fish. In: Nitrogen Excretion in Fish

(Proc. Internatl. Congr. Biol. Fish), Wright, P.A. and D. MacKinlay (eds.).

Fiess*. J.C., J.R. Hom*, H.A. Hudson*, C. Kato, P.H. Yancey (2002). Phosphodiester amine, taurine and derivatives, and other osmolytes in vesicomyid bivalves: correlations with depth and symbiont metabolism. Cahiers Biol. Mar

. 43: 337-340

Yancey, P.H., M.D. Rhea*, D. Bailey, K. Kemp (2004). Trimethylamine oxide, betaine and other osmolytes in deep-sea animals: depth trends and effects on enzymes under hydrostatic pressure. Cell Molec. Biol.

50: 371-376

Rosenberg*, N.K., R.W. Lee, P.H. Yancey (2006). High contents of hypotaurine and thiotaurine in hydrothermal-vent gastropods without thiotrophic endosymbionts. J. Exp. Zool. 305A: 655-662.
Brand*, G.L., R.V. Horak*, N. LeBris, S.K. Goffredi, S.L. Carney, B. Govenar, P.H. Yancey (2007). Hypotaurine and thiotaurine as indicators of sulfide exposure in bivalves and vestimentiferans from hydrothermal vents and cold seeps. Mar. Ecol. 28: 208-218.
Samerotte*, A.L., J.C. Drazen, G.L. Brand*, B.A. Seibel, P.H. Yancey (2007). Contents of trimethylamine oxide correlate with depth within as well as among species of teleost fish: an analysis of causation. Phys. Zool. Biochem. 80: 197-208
Fiess, J.C., A. Kunkel-Patterson*, L. Mathias*, L.G. Riley, P.H. Yancey, T. Hirano, E.G. Grau. (2007). Effect of environmental salinity and temperature on osmoregulatory ability, organic osmolytes, and plasma hormone profiles in the Mozambique tilapia (Oreochromis mossambicus). Comp. Physiol. Biochem. 146A: 252-264
Yancey, P.H., J. Ishikawa*, B. Meyer*, P. Girguis, R. Lee (2009). Hypotaurine and thiotaurine in polychaetes without endosymbionts from hydrothermal vents: correlation with sulfide exposure. J. Exp. Zool. 311A:439-447.
Hagedorn, M., V.L. Carter, S. Ly*, R.A. Andrell*, P.H. Yancey, J.A. Leong, F.W. Kleinhans (2010). Analysis of internal osmolality in developing coral larvae, Fungia scutaria. Phys. Biochem. Zool. 83: 157-166
Yancey, P.H., M. Heppenstall*, S. Ly*, R.M. Andrell*, R.D. Gates, V.L. Carter, M. Hagedorn (2010). Betaines and dimethylsulfoniopropionate (DMSP) as major osmolytes in Cnidaria with endosymbiotic dinoflagellates. Phys. Biochem. Zool. 83: 167-173
Laxson*, C., N. E. Condon, J. C. Drazen, and P.H. Yancey (2011). Decreasing urea:methylamine ratios with depth in Chondrichthyes: A physiological depth limit? Physio. Biochem. Zool.84:494-505 online pre-publication
Kalujnaia, S., S. Gellatly, N. Hazon, A. Villasenor*, P.H. Yancey and G. Cramb (2013). Tissue distribution of inositol monophosphatase (IMPA) isoforms in two euryhaline teleosts, the European eel (Anguilla anguilla) and the Nile tilapia (Orechromis niloticus); the effects of SW-acclimation on isoform expression and inositol production. Amer. J. Physiol.
Yancey, P.H., M. Gerringer*, A.A. Rowden, J.C. Drazen, A. Jamieson (2014). Marine fish may be biochemically constrained from inhabiting the deepest ocean depths. Proc. Natl. Acad. Sci. USA Mar. 3; see news story here.
Hagedorn, M., V. Carter, N. Zuchowicz, M. Phillips, C. Penfield, B. Shamenek, E.A. Vallen, F.W. Kleinhans, K. Peterson*, M. White*, P.H. Yancey (2015). Trehalose is a chemical attractant in the establishment of coral symbiosis. PLoS ONE 10.1371/journal.pone.0117087
Divino, J.N., M. Monette, S.D. McCormick, P.H. Yancey, K.G. Flannery*, M.A. Bell, F.A. von Hippel, and E.T. Schultz (2016). Osmoregulatory physiology and rapid evolution of salinity tolerance in a recently introduced lake population of Threespine Stickleback. Evol. Ecol. Res. 17:179-201.
Linley, T., M. Gerringer**, P.H. Yancey, J.C. Drazen, C. Weinstock*, A. Jamieson (2016). Fishes of the hadal zone including new species, in situ observations and depth records of Liparidae. Deep-Sea Research I 114: 99-110.
Mills S., Leduc D., Drazen J. C., Yancey P., Jamieson A. J., Clark M. R., Rowden A. A., Mayor D. J., Piertney S., Heyl T., Bartlett D., Bourque J., Cho W., Demopoulos A., Fryer P., Gerringer** M., Grammatopoulou E., Herrera S., Ichino M., Lecroq B., Linley T. D., Meyer K., Nunnally C., Ruhl H., Wallace* G., Young C. and Shank T. M. (2016). 10,000 m under the sea: an overview of the HADES expedition to Kermadec Trench. IN: B. Golder and A. Connell (Eds.) Proceedings of Kermadec Discoveries and Connections (pp 36-38). The Pew Charitable Trusts.
Gerringer**, M.E., Drazen, J.C., Yancey, P.H. (2017). Metabolic enzyme activities of abyssal and hadal fishes: pressure effects and a re-evaluation of depth-related changes. Deep-Sea Res. I 125: 135-146
Gerringer*, M.E., Drazen, J.C., Summers, A.P., Linley, T.D., Jamieson, A.J., Yancey, P.H. (2017). Distribution, composition, and functions of gelatinous tissues in deep-sea fishes. Royal Soc. Open Sci. 4: 171063
Gleason, L.U., L.P. Miller, J. Winnikoff, G.N. Somero, P.H. Yancey, D. Bratz*, and W.W. Dowd. (2017). Thermal history and gape of individual Mytilus californianus correlate with oxidative damage and thermoprotective osmolytes. J. Exp. Biol. 220: 4292-4304. News feature: jeb.biologists.org/content/220/22/4081.2
Downing*, A.B., G.T. Wallace*, Paul H. Yancey (2018). Organic osmolytes of amphipods from littoral to hadal zones: Increases with depth in trimethylamine N-oxide, scyllo-inositol and other potential pressure counteractants. Deep-Sea Res. I. In Press
KIDNEY/BRAIN Research:
---
Go to Top of Page; GO TO Prof. Yancey's Home Page; GO TO Whitman Biology Home Page