Research Vessels


.


R/V Wecoma , Thompson
Atlanis and DSRV Alvin


.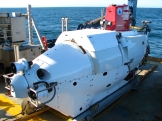 Examples of our research teams: 1997 (on Wecoma, 2001 (on Thompson with robotic sub), & 2008 (on Atlantis with Alvin sub); and 2009 (on Point Sur)

FOR INFORMATION ON OUR SPECIFIC STUDY SITES, CLICK ON THE NUMBERED BOXES IN THE DIAGRAM BELOW.