These are species that we caught off Oregon, California and Hawai'i either as a deep-sea bottom otter trawl rose, or by midwater/pelagic trawls (picture, right). One, the MOCNESS type net, can be opened and closed at specific depths. Some species are MESOPELAGIC (about 200-1000m), while others are from the deeper BATHYPELAGIC zone (below 1000m). Some migrate down into the ABYSSOPELAGIC (below about 3000m, but poorly defined).

Pelagic animals are those that live in the open water, not closely associated with the seafloor. [Benthic and benthopelagic (bottom-associated) animals are found on most of my other animal webpages (use the menu, upper right)]. Animals in the deep pelagic--fishes, jellies, shrimp, etc.--must adapt to low food supplies. They eat each other, and/or the detritus falling down from above. Some species are vertical migrators--they migrate to the upper waters at night to eat where there is more food. Animals often have gelatinous tissues and overall very low protein contents, with relatively weak muscles*.

Many camouflage their bodies by being transparent, black or red. Red light from the sun does not exist in the midwater twilight as red wavelengths are absorbed (removed) strongly by water (and blue the least, hence the ocean's color). Consequently, most deep-sea animals have lost the ability to see red.

Many have have special adaptations to cope with low light levels, such as large eyes and photophores (light-producing organs) to produce bioluminescence for headlights, lures, mating signals, camouflage (counterillumination; see below), confusing prey, confusing predators, and/or "burglar alarm" (light up your predator to attract a higher-level predator to the one after you). About 75% of mesopelagic organisms are bioluminescent. Most bioluminescence is blue, or less commonly green, since blue wavelengths of light, followed by green, travel farthest in water (red light, in contrast, travels the least, its energy being absorbed by water most easily).
See the UCSB Bioluminescence or the KrillOil bioluminescence page for kids for more information on biological light production.
Below: MOCNESS pelagic trawl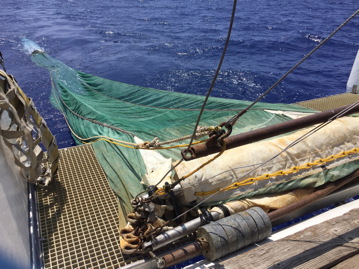 Below: Rare
TELESCOPEFISH
with forward-focused eyes and bloated stomach (more below)