METHANE SEEPS
Awesome scenes at N. Calif. seeps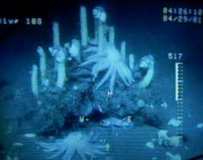 "
Babysitter" snails
on towers of spiral eggcases on a
carbonate (microbially-precipitated
) rock.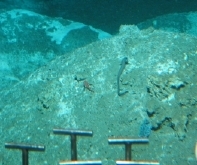 Hills of frozen hydrate, bacterial mats, and 3 species of fish [bars are tubecore handles on
Alvin
]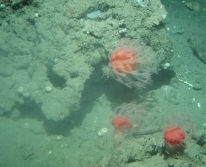 Mushroom corals
on carbonate rocks
OVERVIEW
See my MAIN PAGE for details (look for the Vents and Seeps section). Here is a SUMMARY:

Cold Seeps occur mostly along continental margins, where gases (CH4 or methane--sometimes as methane-hydrate ice--and hydrogen sulfide) and oil seep out of the sediments and also provide abundant energy for eubacteria, and archaea, which are the basis of a "gas-powered" foodchain. Methane (or natural gas, identical to that used by humans) freezes in cold and high pressure, melting above about 600m depth. There, cold methane seeps out of the bottom in streaming bubbles, sometimes called a cold vent instead of a seep (see movie below). Microbial reactions with methane produce i) H2S (rotten-egg-smelling hydrogen sulfide), and ii) carbonate rock formations (see below under Eel River Seeps for details).Clams, mussels and vestimentiferan tubeworms are dominant animals, and they rely on symbiotic bacteria in their feeding tissues (gills in clams and mussels, trophosome in tubeworms). These bacteria use H2S or methane for energy.
Hydrothermal Vents: click here
Our studies are on adaptation of seep and vent animals to high pressure and toxic sulfide. We have used specimens provided by Drs. C. Fisher (Penn State), R. Lee (WSU), L. Levin (Scripps Inst. Oceanography); 1995-96 specimens trawled up by me and Dr. Joe Siebenaller of L.S.U.; and 2006 specimens collected by me and colleagues on the Eel River seeps off California and Hydrate Ridge Seeps off Oregon in Alvin studies lead by Dr. Lisa Levin of Scripps Inst. Oceanography and Dr. Ray Lee of Washington State University.

1. MODERATE-DEPTH SEEPS
--a. EEL RIVER SEEPS on the slope off Eureka, Calif., 510-520m, photographed and sampled by us using a remote-operated vehicle or ROV (2001), and with the ALVIN (2006) (studies led by Dr. Lisa Levin, Scripps Inst. Oceanography).
--b. HYDRATE RIDGE SEEPS off Newport, Oregon, 599-890m, photographed and sampled on the ALVIN (2006), (studies led by Drs. Lisa Levin and Raymond Lee, Washington State Univ.).